Dr. Rouabah participates in the 9th Arab-American Frontiers of Science, Engineering, and Medecine symposium
The Arab-American Frontiers of Science, Engineering, and Medecine symposium stands out as a prestigious assembly that unites leading researchers, scientists, and experts from the Arab world and the United States. Organized by the US National Academies, this symposium serves as a dynamic platform for collaborative discussions and knowledge exchange at the crossroads of various scientific disciplines.
Reflecting the commitment of the US National Academies to foster international cooperation and drive advancements in science and technology, the symposium plays a pivotal role. Through thought-provoking presentations, engaging panel discussions, and valuable networking opportunities, the symposium actively contributes to the progress of research and innovation in both the Arab region and the United States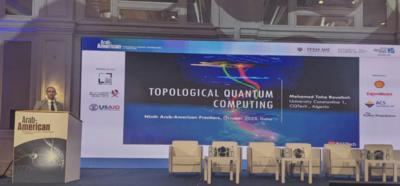 Participants in this symposium benefit from a unique opportunity to connect with peers, share their expertise, and contribute to the global scientific community's pursuit of knowledge. Encompassing a diverse array of cutting-edge topics, from fundamental scientific research to applied engineering solutions, the event mirrors the varied interests and expertise of its attendees.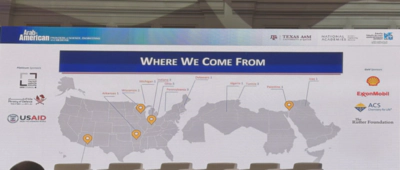 With its inclusive and collaborative approach, the Arab-American Frontiers of Science, Engineering, and Medecine symposium consistently nurtures meaningful connections and inspires groundbreaking research initiatives that positively impact society and the broader scientific community. This year's edition covered themes such as Decarbonizing the Global Economy, Quantum Computing, Precision Medicine, and Technologies for Equity and Inclusion, featuring high-level experts from the US and the Arab region.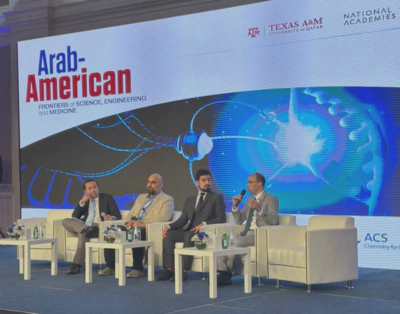 CQTech's PI, Dr. Taha Rouabah, was honored to participate in the ninth installment of this distinguished symposium, held in Doha on 23-25 October 2023. Serving as an invited speaker with a presentation on Topological Quantum Computation and as a panelist for the Quantum Computing session, the CQTech PI joined a group of exceptionally accomplished speakers and experts. Representing Algeria, Africa, and the Arab region in this esteemed gathering was a profound privilege.